In this post, you will find the backlog of past and upcoming Among patch notes and updates. There hasn't been anything new in July so far, but the June 15th patch came out with a big bang, including 15 player lobbies, new characters, and more! The notes were taken from Innersloth's Among Us dev log on Stitch.io.
June 15, 2021 Patch Notes
15 player lobbies are OUT NOW, which includes things like:
An improved art style (subtle, but cleaner and easier for us to animate)
6 brand new colors, 6 brand new Among Us Characters: Tan, Gray, Banana, Rose, Maroon, and Coral — I have seen absolute blood baths in the comments section of people claiming Rose and Banana for their mains. Be safe out there. The pastel stans are thirsty for their cute colours, and rightfully so. (Also I know these colours are not super colourblind friendly – we want to move away from colours being the main way people identify Crewmates, so hang tight!)
Mobile controller support
A new kill screen meeting menu that indicates who died between rounds — Yeah that's right I know you don't keep track of who dies!! This is a call out to you Steve. (I don't know a Steve but whoever is named Steve must be really freaked out right now.)
Ability to honk horn added to The Airship: If you have the "Stabilize Steering" task, bop the horn to honk it. Most important update in my humble opinion.
A significant change on Android (Google Play Store, specifically) is the additional downloads required after launching the game for the first time. We separated the map assets from the base game to make the initial download size smaller.
Bug Fixes:
The shop works in multiple languages again
Right Hand Man skin kill animation makes the WEEEEH sound again
Kick/Ban icon remains persistent on screen if chat is open after voting ends
Made it more clear you can change the chat type (Free Chat VS Quick Chat) in the game settings if you are logged in
Various localization fixes
Players will stop moving when meetings are called
May 10, 2021 Patch Notes
The latest update (Version 2021.5.10) is focused on mobile integrations and bug fixes, so feel free to skip if you're on a different platform. Or keep reading, I don't know, I don't run your life.
Twitch Mobile Streaming Integration
This update allows you to start streaming Among Us on Twitch straight from your mobile device!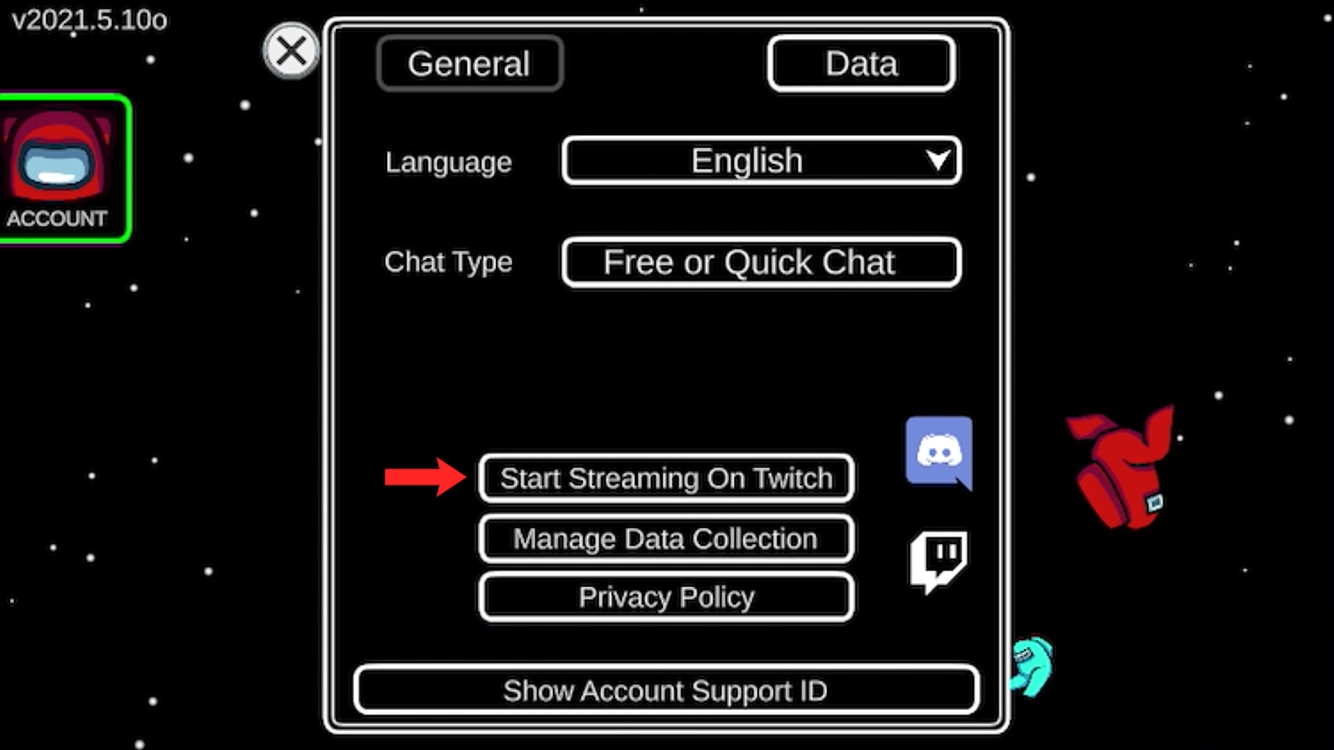 Discord Integration
You're now able to link your Discord account to the app (on mobile) and then share a room code invite by pressing the Discord button next to the private/public control in the room lobby!
Mobile devices and PC will also be able to join the room quickly with invites from Discord. From PC, you're able to send an invite via Discord as well as join an invite.
Note: You need to be a non-minor logged into a complete account to access any of the buttons that allow for linking to or interacting with Twitch/Discord. And remember, if you are logged into an account, you can change the chat in Settings or your name in the Account tab.
Bug fixes:
Crewmate sprites appearing as pink polygons on Android devices should be fixed. If you still are having issues, please email [email protected](.)com and include what device you're using. MAKE SURE YOU'RE UPDATED TO VERSION 2021.5.10! (You can see what version you're on when you launch the game in the top left corner.)
Skins not appearing in the Airship bundle purchased should now be there
Region text no longer continually shows North America on opening screen
IOS users no longer need to sign in everytime the game opens
April 27, 2021 Patch Notes
Bug Updates
Pink Blobs: On specific Android devices and Chromebooks, players have reported the crewmate sprites appearing as weird pink rectangles. We've identified most of the issues, and hopefully, the cruel pink overlords will not continue their reign of terror for long. Android devices are always particularly tricky because every individual device has its features we need to account for!
Bug Fixes: If you don't see your bug mentioned here, know that we're aware of them! (E.g., missing skins, lag, various visual glitches, etc.) Here's a summary of what's been fixed, though:
Airship uses proper background on Create Game screen now
Authentication issues when players tried to sign in has been fixed on PC and mobile
Miscellaneous fixes to text/font

Ping counter re-added
Region text no longer always shows North America, even when in other regions
"PLAYERNAME left the game." alignment fixed
Other scaling/formatting issues fixed

Miscellaneous fixes to accounts

Mostly backend stuff
Reflow in 2021.4.12 removed MismatchedProductUserIDs and NullContinuanceToken errors (multi account/device support)

Vitals color bug has been "fixed" (vitals no longer shows color names at all)
Are you stuck on Quick Chat and changing your username? If you've created an Account (or gotten parental permission) and are logged in, you can change the chat in Settings and your name in the Account tab!
– Nintendo Switch Patch (version 2021.4.2n): A Switch patch recently went out, which included allowing multiple users to log into the same device, translation updates, and making sure an invalid birthdate no longer makes account initialization fail. Various bug fixes are included in this, so sabotage menus should no longer replace the minimap for Impostors. Ghosts can no longer repair comms sabotage. Impostors can repair it; room names are consistently layered, the develop photos task doesn't finish instantly, and more.
– itch.io Support: We're working with itch.io and exploring our options for account support on the platform. Hang tight, but in the meantime, here's how you can redeem a Steam key if you purchased the game on itch.io. When you download our game, you should see a pop-up that allows you to claim a Steam key. Click on 'get Steam key' to get a popup with a Steam key, open your Steam client, click the + Add a Game at the bottom left > Activate a Product on Steam > Next > I Agree > Enter Steam key > Finish. This is a temporary solution, and we hope to get our itch.io version working again soon!
March 31, 2021 Patch Notes
This free map update includes:
The 4th map, and the biggest one yet
New tasks including jewel polishing, emptying trash (wow fun), and more
The ability to pick the room you start in
All new areas to explore (or get murdered in)
Improved mobility with ladders and moving platforms
New free hats including a heart pin, angry eyebrows, unicorn head, rubber glove, and more!
Note: minimum system requirements for mobile will be iOS 13 and Android 6
Code of Conduct
Here's a recap of what the account system is all about:
Right now it's focused on reporting and moderation capabilities, but in the future we hope to add a friend system and the ability to transfer your cosmetics between devices.
You can only make on account per device – if multiple people are using the same device it'll be locked for the time being, but we're planning a hot fix for that soon.
You will be able to report if someone in the game is acting inappropriately, including: inappropriate names, inappropriate chat, cheating/hacking, and harassment/misconduct. Consequences can range from temporary to permanent bans (including alternate accounts).
Note that reports will be read by people (not bots!) and you will need to provide a reason as to why you are reporting.
No linking of multiple accounts yet (Steam account is only on Steam, Epic account is only on Epic, etc.) It'll be coming soon though.
You must create an account to access free chat (without it you will have to use Quick Chat for safety!)
You must create an account to freely change your display name. If you do not create an account, there will be randomized names you can choose from.
Usernames are not exclusive. Multiple people can have the same username. (So if you take the username "PuffballsUnited", other people can still use "PuffballsUnited".)
If you are under the minimum age of digital consent in your country (for most countries 13 is the minimum age), you have to get a parent/guardian's permission to access free chat (which then allows you to create an account), or change your display name.
Without an account (or if you're a minor who doesn't want to ask your parent/guardian for approval), you can still play via Guest Mode. This locks you to Quick Chat and doesn't allow you to change your name other than with a randomly generated name.
January 18, 2021 Patch Notes
Big updates:
New map coming early 2021 – watch the trailer here. As we revealed at the Game Awards on Dec 10th, the new Airship map will be dropping in early 2021! Inspired by our other game The Henry Stickmin Collection, this will be a huge map with all new tasks and rooms to explore. Choose which room you start in, run around in new costumes, and even climb up and down ladders?! Crewmate technology has advanced so much, wow. And yes – the update will be free!
Now available on the Nintendo Switch. Our first console launch! Avoid those Impostors as you play at home or on the go! We're so thrilled to be launching on a completely new platform and seeing so many new people try out the game. We actually hit the eShop bestsellers list overnight, which is WILD. Thanks for that, crewmates. 🙂 There's still some fixes that will be added to it including some hats and skins, but trust that it's coming!
Xbox consoles in 2021 and is out on Xbox Gamepass PC now. Yeeeep, we've had an EXTREMELY busy time. Trying to make sure you can play the game on your preferred platform, and we're excited to have the Xbox community along as crewmates.
Epic Store.We've launched Among Us on the Epic Games Store! If you use your Epic Coupon, you can use it to claim the All-In-One Pack, which has all the skins and pets included.  
Small update:
Nintendo Switch bug fixes. We've did a few bug fixes for the Nintendo Switch, including some words being blocked in chat, scrolling with the controller, and more. Right now buying cosmetic items are missing from the game, which we intend to add in at some point too!
November 24, 2020 Patch Notes
— Balance changes —
Comms sabotage hides task arrows
Comms red light no longer immediately responds to the correct position
— Bug fixes —
Fixed camera flinging on security cams
Fixed inaccurate admin table on Polus
Fixed Polus panels reachable through walls
Fixed temperature mini-game in Polus for iOS
Fix solo-complete reactor/seismic exploit
Fix align engine exploit and softlock
— What's coming up? —
Accounts. One of our biggest priorities has been to get our account system nailed down and in line with privacy policies. The first focus for accounts will be to get reporting and moderation integrated ASAP. We want our game and communities to be welcoming, respectful places, so this will be a first step in tackling the toxicity and hacking. Thank you for being excellent to each other in the meantime! If you have any issues, you can send reports to

[email protected]

.
Languages. We've been getting the game localized so Among Us can be enjoyed anywhere! Currently, the plan will be to get these languages in: French, Italian, German, Spanish EU and LA, Dutch, Russian, BR and EU Portuguese, Japanese, Korean, Filipino (Bisaya). There will be more to come, but as we said, accounts first!
Mobile ads. There have been a lot of issues with inappropriate ads on mobile, so until 2021, they'll be removed. Enjoy! Think of it as a small thank you for all the support you've given us. 🙂 Everyone who paid to remove ads, don't worry. We're gonna re-add them and make sure you get something extra for paying. More than anything, we just want to improve everyone's experience, and not just ignore your concerns.
November 03, 2020 Patch Notes
– Added Anonymous Voting option
All votes appear as grey
– Added Task Bar Modes
Always mode works like normal
Meeting mode only updates the bar during meetings
Invisible mode removes the taskbar entirely
– MIRA: Comms sabotage clears the security logs
-Added symbols to fix wires task
-Added cosmetics to meeting screen
-Various bug fixes